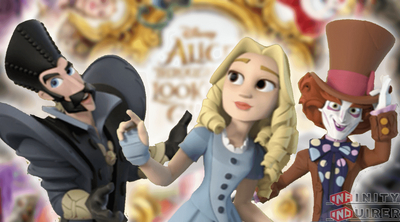 Disney Infinity just revealed
4 NEW PLAYSETS
along with confirming baloo, ant-man, vision, black panther, & black suit spider-man. If you have an account on the disney infinity website go to your profile and the place where it shows you what figures you have. The colored spaces are figures you own, the black shaded spaces are revealed figures you don't own, and finally the clear hexagonal spaces are free figure spaces that have not yet been revealed. Using current info starting from that scratch we have
7 NEW STAR WARS
(one playset)
6 NEW MARVEL'
(one playset) and 13 NEW DISNEY (two playsets). ''
In the end of the reveal of marvel battlegrounds they hint at Finding Dory and Alice Through the Looking Glass. It was also confirmed that the disney playset WILL be from animation. Also a french article leaked names of Alice, Mad Hatter, and Time. With Disney's current slate being: Captain America: Civil War (Marvel Battlegrounds) Zootopia (Nick Wilde & Judy Hopps + Power Disc Pack) The Jungle Book (Baloo) Alice Through the Looking Glass and Finding Dory (Hinted) BFG, Pete's Dragon, Moana, Doctor Strange, & Rouge One, we have a complete reveal of disney's plans from scratch.
Disney
said a little too much
.
7 Star Wars:
Galen Erso (Starkiller) (Mads Mikkelsen)
Jyn Erso (Juno Eclipse) (Felicity Jones)
Biggs Darklighter (Diego Luna)
Darth Bane
Lattz Razzi
Bo Katan
6 Marvel:
8 Disney: Other than Alice, Mad Hatter, Time, Baloo, & Peter Pan (5 Characters)
Finding Dory Pixar Playset (Dory, Nemo, Destiny, & Hank)
Disney Animation Playset (Moana, Fire Hulda & Maui)
Originals Sergeant Tamora Calhoun
Power Disc Pack (Moana's Ship, Fire Deity Blast, Moana Costume Change, & Pua)
Power Disc Pack (Finding Dory All Unknown)
Power Disc Pack (White Rabbit Mount, White Queen Team Up, Time's Vehicle, & Cheshire Cat Invisibility) 
Wreck it Ralph Power Disc Pack (Neff Mount, Mishaela Team Up, Heroes Duty Ship, & Nintendo Master Key Phase) 
Next year will be...
Marvel:
Thor: Ragnarok (Thor, Hela, Wormwood, Female Thor, & Gladiator)
Guardians of the Galaxy 2 Playset  (Astrolabe, Stella Nega, Aerolite, Magus, Quasar/Martyr, Nightmare, Nicholette, Oshtur, Jack of Hearts, & Hoggoth)
Disney:
Wreck-it-Ralph 2 Playset ( Tamora Calhoun, Doomsday Neff, Mishaela, Assassin, Neytiri, Jake Sulley, Mako Mori, Raleigh Becket, Bat Ralph, Wonder Woman, Sora, Ludwig Koopa, Wolfsbane, Cy-bug Turbo, Cyborg)
Beauty and the Beast Playset (Belle, Beast, Monsieur De Arque)
Coco Playset (2 Characters)
Dead Men Tell No Tales Playset (Carina Smith, Captain Salazar, Will Turner, and Henry)
Star Wars:
Old Republic (Revan, Vitaite, Meetra, Bastilla, Darth Zannah, & Darth Andeddu)
Episode VIII Playset (4 Characters)
Originals:
Jim Hawkins
Captain Amelia
Dr Delbert
Please Comment (THIS IS NOT SPECULATION) Thank You.