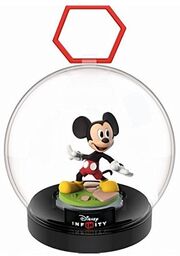 I haven't played Infinity much during the past year and missed pretty much all of the 3.0 edition after the starter kit. After Disney pulled the plug a few months ago, I figured I better get the entire set before it was gone.
I got most of the figures, playsets and power disc sets, and stumbled upon these display globes at GameStop in their clearance section for $5.97 each. I get the ones that are available at whichever store I happen to be at, but I probably should just go on the website and buy a bunch so I'll have enough for a full set.
One of the other items I have been looking for is the Nemo figure. That's the last one I don't have, and now I'll need to go to Amazon or Ebay to get it because Toys R Us and Best Buy are out, and GameStop and Walmart don't even list it.
But's what is more important is the fact the following places have cut their prices on almost all of their Disney Infinity items:
Toys R Us: figures are $7.49 to $9.59, play sets and storage cases are either $14.98 or their normal price, and most of the starter kits are under $40
Best Buy: figures are under $5, including the exclusive Nick Fury in the special display case, and most starter kits are under $30
GameStop: figures are $4.99 each and starter packs are heavily discounted
Disney Store: figures start at $9 and most items are discounted
It takes some extra work to sort through the results on Walmart because they include other retailers that are affiliated with them and pre-owned items, but the figures start at about $6 and go up to the regular price and starter packs are as low as $20.
Target doesn't have as many things discounted, but figures start at $6 and some of the starter packs are around $20.

The fact that all have discounts on their Disney Infinity items at the same time indicate they're all trying to clear them out of their inventory. Very shortly, they're not going to be in those stores any more, except as trade-ins at GameStop and Walmart. You will then have to turn to the various companies that sell through Amazon or Walmart, or go to Ebay.
But until that happens, now's a good time to pick up items you might be missing or want a second of. And remember, just because the game isn't being made any more, that doesn't mean it suddenly stops being fun. With the Toy Box, the possibilities are still endless for creating your own fun. A game like this is replayable for a very long time because of the variety the Toy Box brings with it.