"Welcome to the Toy Box, a world where all decisions are yours to make and the possibilities are truly infinite. Here you can play and explore, build or destroy, fight a battle, win a race, or anything else you can imagine. What you do in the Toy Box is entirely up to you!"
-Toy Box Host, Introduction to Toy Box 2.0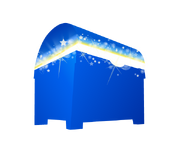 Toy Box mode is Disney INFINITY's innovative game mode that allows players to create entire worlds using the toys they have collected and play them using their Disney characters. Everything is up to you, and the possibilities are truly unlimited.
In Disney Infinity: 2.0 Edition, a new an improved version of Toy Box was implemented, called Toy Box 2.0. It retains most of the features of the original, but changes some of the gaming controls and adds new features to help make toy box building easier and faster, like Toy Box Builders and Creators. It also allows for creation of worlds up to four times larger than the maximum size of a toy box in Disney Infinity.
Each week, Disney issues a special challenge to the Disney Infinity community to create a special toy box based on a given theme. The best of these toy boxes, usually only the top five, are featured by Disney on Toy Box TV.
Exclusive Characters 

Characters Exclusive to the Toy Box.
Trivia
Due to space limitations, the Wii version of the first Disney Infinity game has 6 different Toy Boxes, each with different toys and tools.[1]
Gallery
For all photos and videos, see Toy Box/Gallery.
References
↑ Infinity FAQ (via the Internet Archive)