TRON
Directed by
Steven Lisberger (1)
Joseph Kosinski (2)
Produced by
Donald Kushner (1)
Sean Bailey (2)
Jeffrey Silver (2)
Steven Lisberger (2)
Written by
Steven Lisberger (1)
Bonnie MacBird (story, 1)
Edward Kitsis (2)
Adam Horowitz (2)
Brian Klugman (story, 2)
Lee Sternthal (story, 2)
Music by
Wendy Carlos (1)
Daft Punk (2)
Distributed by
Buena Vista Distribution (1)
Walt Disney Studios Motion Pictures (2)
Release Date
1: July 9, 1982
2: December 17, 2010
Running Time
223 minutes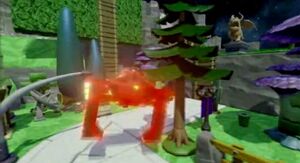 The Tron franchise began in 1982 with the Walt Disney Pictures film Tron. It was followed by various film tie-ins, a comic series and the 2010 sequel Tron: Legacy. More sequels are planned,[1] and a television series, Tron: Uprising, premiered on Disney XD in May 2012.
Description
Tron
Tron is a 1982 American action science fiction film by Walt Disney Pictures. It stars Jeff Bridges as Kevin Flynn, Bruce Boxleitner as Tron and his User Alan Bradley, Cindy Morgan as Yori and Dr. Lora Baines, and Dan Shor as Ram. David Warner plays all three main antagonists: the program Sark, his User Ed Dillinger, and the voice of the Master Control Program. It was written and directed by Steven Lisberger. Tron has a distinctive visual style, as it was one of the first films from a major studio to use computer graphics extensively.
Tron: Legacy
Tron: Legacy is a 2010 science fiction film. Jeff Bridges returns as Kevin Flynn and also, in a digitally de-aged form, plays the film's antagonist, a new version of his CLU program. Bruce Boxleitner also returns as Alan Bradley and, likewise de-aged, as Tron. They are joined by Garrett Hedlund as Sam Flynn, Kevin's son, the film's primary protagonist, Olivia Wilde as digital warrior Quorra, Michael Sheen as Castor, owner of a nightclub within the Grid and Beau Garrett as Gem, a program that works within the digital world. The film deals with Sam investigating the disappearance of his father twenty years earlier, a quest that ultimately leads him into an isolated digital world created by his father after the events of the first film. Original film director Steven Lisberger acted as a producer and consultant on the film, which was written by Adam Horowitz and Edward Kitsis and directed by first-time director Joseph Kosinski.
Tron: Uprising
Tron: Uprising is a 2012 television series set between Tron and Tron: Legacy. The series is directed by Charlie Bean, who also acts as executive producer. Edward Kitsis, Adam Horowitz, and Justin Springer serve as consulting producers.
Disney INFINITY
A Recognizer from the first Tron movie was seen hovering through the air in the closing video from the press event.
The Grid also appears as an area in the game, several background, blocks etc. can be used for building.
The Light Runner and Identity Disc can also be used in Toy Box.
One of CLU's posters can be seen in one of the trailers.
An unknown character appears as a costume.
The songs Recognizer and Derezzed from Tron: Legacy appear in the game.
References
↑ http://www.hindustantimes.com/Entertainment/Hollywood/Tron-3-will-be-spectacular-promises-director-Joseph-Kosinski/Article1-974376.aspx