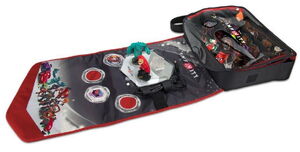 The Play Zone is an accessory for storing Disney Infinity figures, playsets, Power Discs, and the base. It also doubles as a carrying case for bringing them on the go. It has two padded dividers in the main compartment for storing items, but no sub-dividers to help keep individual items from sliding around or hitting each other during transport. Sleeves are attached to the dividers to hold a total of 20 Power Discs.
While you can keep the base in the Play Zone, it does not have any special powers given when inside the Play Zone. There are four separate spaces for 3 characters and a hexagonal disc/playset piece for standby.
For the first release of Disney Infinity, two versions were made: a regular version in red available at all retailers and a Toys "R" Us exclusive blue version with different artwork. Other than the color and artwork, there is no functional difference between the two.
For Disney Infinity: 2.0 Edition, a single version was released in blue and featuring artwork with the Marvel Super Heroes.
Gallery
Ad blocker interference detected!
Wikia is a free-to-use site that makes money from advertising. We have a modified experience for viewers using ad blockers

Wikia is not accessible if you've made further modifications. Remove the custom ad blocker rule(s) and the page will load as expected.