Main Street Electrical Parade Float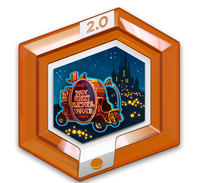 The power disc itself
Information
Main Street Electrical Parade Float will be a rare Power Disc for Disney INFINITY: 2.0 Edition, based off of the parade float at the Magic Kingdom in Walt Disney World and Disneyland. It was revealed at E3. The power disc itself has the parade float on it with the Magic Kingdom in the background.
Description
Toss bombs of confetti at your enemies from this beautiful parade float!
Trivia
This is one of the few power Discs without a character's face on it.
Gallery
For photos and videos, see Main Street Electrical Parade Float/Gallery.
Ad blocker interference detected!
Wikia is a free-to-use site that makes money from advertising. We have a modified experience for viewers using ad blockers

Wikia is not accessible if you've made further modifications. Remove the custom ad blocker rule(s) and the page will load as expected.