Below is a list of all major leaks that have ever occurred throughout the history of the Disney Infinity series (everything for the games that was prematurely and unintentionally revealed), whether they were real or not.
Polygon Leak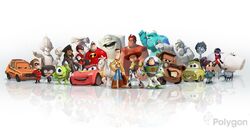 On December 20, 2012, polygon.com revealed that they had received a number of images and videos that revealed certain details regarding Disney Infinity, which was still yet to be officially announced at the time.[1][2] Though the game had been teased at the time, not much had been known about it prior to the leak, and it had been referred to as "Toy Box". This leak revealed many things, most notably the following: the game's real name, its developer (Avalanche Software), Woody, Buzz, Jessie, Mr. Incredible, Mrs. Incredible, Dash, Violet, Syndrome, Lightning McQueen, Mater, Sulley, Mike, Jack Sparrow, Wreck-It Ralph, Vanellope, Edna Mode, Mirage, Maccus, Luigi, Bullseye, Rex, Hamm, and several scrapped characters (Victor Frankenstein, Sparky, The Underminer, The Abominable Snowman, and Grem). These were all later officially confirmed to be true, with many of them confirmed in the Disney Infinity Press Event.[3]
While this leak was correct in many of its statements, it also made many misstatements. Much of this was due to the fact that one of the videos leaked to Polygon was of the demo version of the game which was created to see how children would respond to what Disney Infinity was supposed to be, which bore little resemblance to what the game turned out to be in the end.[4][1] Among the article's misstatements are that the game would be playable on Android devices; that there would be Play Sets based on Wreck-It Ralph, Woody's Roundup, Peter Pan and Aladdin; that certain characters would be able to swim; and that gameplay on mobile devices would be more centered on completing storylines rather than creativity (the exact opposite ended up being the case).
StitchKingdom Leak
On January 9, 2013, stitch kingdom.com posted a story that said that Disney Infinity would feature Sulley, Captain Jack Sparrow, Mr. Incredible, Mike Wazowski, Randall Boggs, Hector Barbossa, Davy Jones, Mrs. Incredible, Syndrome, Dash, Violet, Woody, Jack Skellington, Agent P, Rapunzel, Anna, Elsa (referred to in the article as "Ice Queen"), Sorcerer Mickey, Tow Mater, and Francesco Bernoulli as Playable Characters.[5] According to Andy Robertson of forbes.com, this quote was rapidly removed from this site; however, it was there just long enough for gamesradar.com to find and post it. Where StitchKingdom learned this or where they sourced it from is currently unknown due to the aforementioned removal of the content from the site. All of the items revealed by this leak were officially confirmed by Disney
The article also stated that Disney Infinity would use "character tokens" to interact with the Disney Infinity Base rather than Figures; this statement was proven false on January 13, 2013, the day of the game's official announcement, when figures were revealed to be a part of the game.[3]
On February 5, 2013, the book Disney Infinity: Infinite Possibilities was added to a listing on both Amazon U.S. and Amazon Germany before it was officially revealed.[6] It was officially confirmed on April 6, 2013, when its cover artwork was released.[7]
On February 21, 2013, retailer Entertainment Earth added the Cars Play Set, The Lone Ranger Play Set, Tow Mater, Francesco Bernoulli, and Disney Infinity: Infinite Possibilities to their retail listings, before any of them were officially announced, to their retail listings.[8] The Cars Play Set and its characters were officially confirmed the next day, on February 22. 2013;[9][10] while The Lone Ranger Play Set was officially confirmed on June 6, 2013.[11][12] The book was confirmed on April 6, 2013, when its cover artwork was released.[7]
On May 25, 2013, several retailers, including Amazon, placed The Lone Ranger Play Set up for pre-order on their sites.[13] Entertainment Earth not only listed the play set, but also added a picture of its packaging;[14] this was soon removed.[13] The Play Set was officially confirmed by Disney on June 6, 2013.[11][12]
Micromania Leak
On July 10, 2013, French retailer Micromania posted on their website a listing for many previously unannounced Figures. Among these were Sorcerer Mickey, Jack Skellington, Anna, Elsa, Crystal Sulley, Crystal Jack Sparrow, Crystal Lone Ranger, Crystal Mr. Incredible, Crystal Lightning McQueen, Crystal Buzz Lightyear, the Girl Power Pack, the Frozen Toy Box Pack, and the Wreck-It Ralph Toy Box Pack. It also revealed the fact that Woody would be sold in a single pack rather than in the Toy Story in Space Play Set pack. Because the concept of Crystal figures had yet been revealed when this leak occurred, it can be rightly referred to as the leak that revealed Crystal figures. [15][16][17] These items were all eventually confirmed by Disney at various different times.
On September 29, 2013, an unnamed source posted an image he found at a local GameStop describing a collector's edition display case of Jack Skellington that was to be released there in October.[18] This was officially confirmed the next day.[19]
On October 25, 2013, BFads leaked images of the Toys "R" Us Toy Book which confirmed three new Toys "R" Us-exclusive Power Discs - Scrooge's Lucky Dime, Jolly Roger, and Above the Grid - as well as the fact that the Race to Space Toy Box Pack would be released in the U.S.[20] All of this was officially confirmed upon the release of the book.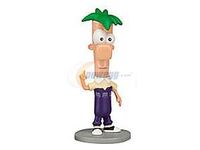 On September 6, 2013, retailer Newegg listed
Ferb
for purchase as a
playable character
. Included with the listing was an image of what was supposedly Ferb's figure. However, the leak was false, and the figure was not released for that game. The image was later proven to be of a Ferb action figure from a
Phineas and Ferb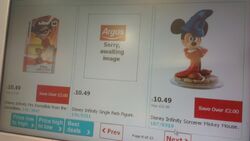 figure play set sold at the Disney Store.
[21]
[22]

Argos also listed Ferb for purchase as a playable character. There was no image listed as proof. 
Ferb has however been discovered to be an unfinished character in the game's coding. His figure was never released.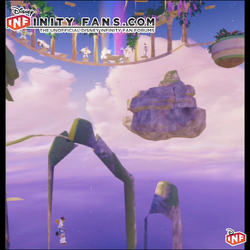 Some time after the release of Disney Infinity, it was discovered that files existed of multiple Characters that were still unannounced. The characters' existence in-game was finally proven when a glitch was discovered: equipping the Magic Wand in the Hall of Heroes allows a player to move statues around as if they were toys, and to enter spark mode, which allows players to see all of their currently locked statues underneath the Hall of Heroes. After leaving spark mode, all of the statues appear on their pedestals, with the exception of the statues that have been moved by the player.
This glitch was used by Sheriff Woody of DisneyInfinityFans.com to leak figures on multiple occasions. The first time he used it, on December 9, 2013, he leaked the existence of Crystal Agent P and Crystal Sorcerer Mickey.[23] On January 9, 2014, he used the glitch again on the PC version of Infinity to again prove the existence of the above two figures, as well as that of Glow-in-the-Dark Buzz Lightyear.[24]
Gallery
Target Release Date/Spider-Man Leaks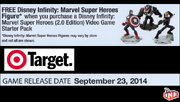 On June 6th, 2014, before Disney Infinity: 2.0 Edition was released, Target accidentally leaked the release date of the game - September 23rd, 2014 - in an ad, in addition to Venom's figure.[25]
Another page in the ad from Target accidentally confirmed the existence of Marvel's Spider-Man Play Set, as well as Iron Fist and Nick Fury as Playable Characters. These leaks were both confirmed to be true three days later, on June 10th, 2014, at E3.[26]
Walmart Disney Originals Leak
Before Disney Infinity: 2.0 Edition was released, Walmart put up listings for figures of Stitch, Tinker Bell, Donald Duck, Baymax, and Hiro, as well as the Guardians of the Galaxy Play Set and the Disney Infinity 2.0 Disney Originals starter pack before they were officially announced by Disney.[27][28] The characters were later taken down at Disney's request.
Argos Aladdin Leak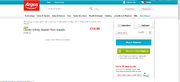 Before Disney Infinity: 2.0 Edition was released, British retailer Argos put Aladdin up for sale on their website before their official announcement.
John Vignocchi Loki Leak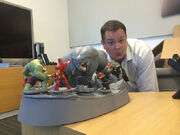 In July 2014, before the release of Disney Infinity 2.0, John Vignocchi posted a photo to Instagram that showcased the Disney Infinity: 2.0 Edition: Collector's Edition. However, he accidentally revealed something else: Loki's figure. He later confirmed that the reveal was a mistake.[29]
Aladdin Trailer Leak
Before the release of Disney Infinity: 2.0 Edition, the official trailer officially confirming Aladdin and Jasmine was leaked by a unknown source and then discovered by the users of disneyinfinityfans.com.[30]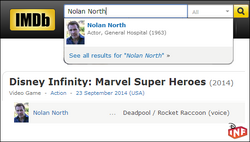 Deadpool Leak
In August of 2014, prior to the release of Disney Infinity 2.0, someone changed the profile for voice actor Nolan North (the voice of Rocket Raccoon in the game) on voice actor website imdb.com to say that he voiced not only Rocket, but also Marvel Comics antihero Deadpool in the game.[31] The information was false, and was later removed.
After the release of Disney Infinity 2.0, John Vignocchi began teasing two more Playable Characters that had not yet been announced, and would be delivered digitally. He did not say who the two characters were, only that one of them was his favorite female Disney character and the other was a male character from the same franchise as the first figure. He also said that the characters were hidden so that no one could find them.[32]
This reveal created quite a lot of hype among the Disney Infinity community, who were dying to know the identities of the two characters. They offered many theories as to their identities. All the while, the identities of the characters remained unknown.
This all changed when a user on Twitter used a glitch in the Hall of Heroes on the PC version of the game (possibly the same glitch used to discover the missing Crystal Figures) to discover the statues of the two missing characters, Sam Flynn and Quorra. The video was almost immediately taken down, but by that time, it had already been discovered by the users of disneyinfinityfans.com. The video was then re-uploaded to YouTube, and from there, every news medium that covered Disney Infinity knew about the leak.[33][34]
Later, an update to the PC version surfaced, accidently adding the real statues of the two characters, confirming their existence.
Disney Infinity 3.0
Disney Originals Leak
Before the official announcement of Disney Infinity 3.0, Chinese retailer Taobao leaked images of the packaging of Mulan and Mickey Mouse. The backs of the packages also revealed Minnie Mouse, Olaf, Sam Flynn, Quorra, Joy, Anger, Sadness, Fear, and Disgust. The images, along with the reports of the leak on the sites that first reported them, were later taken down at the request of Disney Interactive[35][36]; but by that time, the major news sites already knew about it.[37][38]
Star Wars: The Clone Wars Leak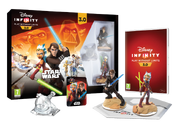 Before the announcement of Disney Infinity 3.0, German retailer Saturn published listings for the game's starter pack, along with an image of said starter pack which revealed Anakin Skywalker and Ahsoka Tano as Playable Characters, along with Princess Leia, Obi-Wan Kenobi, and other things that appeared on the box.[39] They were then discovered by the users of diskingdom.com, which is how they were brought to wide attention.[40] The stories were later taken down at the request of Disney Interactive.[41]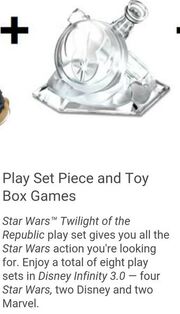 In May 2015, before the release of
Disney Infinity 3.0
,
Best Buy
posted on their website that the new game would contain eight play sets, four of which would be
Star Wars
-themed, two of which would be Disney-themed, and two of which would be Marvel-themed. News of the leak was tweeted on infinity inquirer, and soon reached other news sites.
[42]
However,
John Vignocchi
confirmed via Twitter the day after the news was leaked that the information was "completely false", and that no one had even revealed the number of play sets in the game to retailers for fear that the information would leak.
[43]
But In Spring 2016 on Toy Box Next 2016 Along with the 5 confirmed playsets,
John Vignocchi
said that 3 new playsets would be released for 3.0, one based off of Finding Dory, another based off of Star Wars: Rouge One, and a final one based off of Moana. While the Finding Dory play set is set for release on June 17, 2016, the other two play sets (Star Wars: Rouge One & Moana) were scrapped when production on the game ended on May 10, 2016.
[44]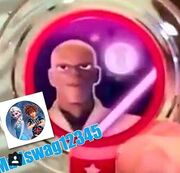 In late May 2015, a video was posted to CoinOp TV's YouTube channel, providing viewers with an in-depth look at a new Star Wars power disc pack, which was not yet supposed to be announced: the Twilight of the Republic Power Disc Pack.[45] The video was later taken down; however, on June 5th, 2015, the leak was verified by John Vignocchi and Allison Petrek on Toy Box TV live.
Star Wars Rebels Leaks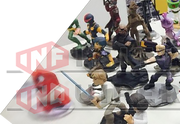 On May 27th, 2015, prior to the release of Disney Infinity 3.0, two different German retailers (one of which was Saturn, the same retailer that leaked the 3.0 game itself) leaked the existence of four unannounced Playable Characters from Star Wars Rebels: Ezra Bridger, Kanan Jarrus, Zeb Orrelios, and Sabine Wren.[46] Also listed was something called "A World Beyond", seemingly a play set. The validity of the leak has yet to be offically confirmed/denied.
On June 10th, 2015, an image of Sabine Wren's figure was leaked by the Disney Games Brazil Facebook page, confirming her to be playable. (This original source was later taken down.)[47]
Two days later, Disney officially confirmed all four Star Wars Rebels Figures.[48]
Word on what "A World Beyond" actually has yet to come.
On May 29th, 2015, prior to the release of Disney Infinity: 3.0 Edition, Infinity Inquirer found a release date of August 23rd, 2015 for Disney Infinity: 3.0 Edition in Best Buy's Internal System [49]. On July 8, 2015, it was confirmed to be August 30, one week later.
The Good Dinosaur Leak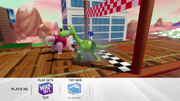 On July 14, 2015, an image of Sadness riding Arlo, the protagonist of The Good Dinosaur, was posted to multiple sites.[50][51][52] It was reportedly taken from a preview trailer of the Inside Out Play Set, which was soon removed from the internet.[51] Official word from Disney regarding this image has yet to come.
Coincidentally, on that same day, retailer SimplyGames added a listing for a figure of Spot (another protagonist from the same film) with a release date of November 30, 2015.[53][54] No images were provided as proof. The listing was later removed.[53][52] Disney then confirmed Spot and The Good Dinosaur Power Disc Pack at D23 Expo.
Later Game accidentally leaked the release date for Spot being November 6th, 2015. [55]
On August 23, 2015, a video surfaced of a family who got Disney Infinity: 3.0 Edition early and was looking through the "My Disney Infinity Collection" feature and unboxing other merchandise. Two things were leaked: the Black Suit Spider Man figure from Disney Infinity: 2.0 Edition being released as a single figure [56] and the Zootopia Power Disc Pack. [57]
Force Awakens Leak
On October 12, 2015, multiple listings have shown up of the upcoming "Force Awakens" playset. The leak confirmed 4 characters: Ray, Finn (who were confirmed at D23 2015), along with highly speculated Kylo Ren and Poe Dameron. The leak also included a new powerdisc pack that will come with four discs: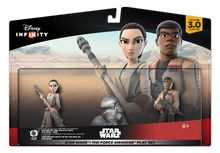 FINN'S STORMTROOPER COSTUME: Costume Change (Round)
POE'S RESISTANCE JACKET: Costume Change (Round)
RESISTANCE TACTICAL STRIKE: Special Attack (Round)
QUAD JUMPER: Vehicle Disc (Hexagonal)
The playset is standard price at $34.99 retail, and features a playset piece of a fallen stormtrooper helmet. The playset is to be released on Dec 18th, 2015.[58] Officially confirmed by the Disney Infinity website later that same day.[59]
Disney Infinity Marvel 3.0 Characters Leak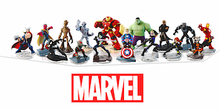 On October 13, 2015, Amazon leaked a picture of three new Marvel characters: Vision, Ant-Man and Black Panther. It also leaked that there would be Marvel power dics.[60] With the revelation of the BHPhotoVideo on 1/16/16 the figures previously rumored are now confirmed, but still without any official reveal.
BHPhotoVideo Baloo Leak
On January 16, 2016, the retailer BHPhotoVideo leaked pre-orders for the previously rumored Vision, Ant-man and Black Panther as well as a new Disney character, Baloo[61]
Marvel Battlegrounds Single Leak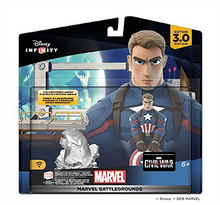 On January 19, 2016, the website Amazon leaked a listing for the Marvel Battlegrounds playset. The leak only featured a playset piece and First Avenger Captain America. If this is true, it will be the first playset to only feature 1 playable character with the set.[62] Later that day, BHPhotoVideo, known for the Baloo leak also posted an HD image of the package adding further evidence to the leak.
Alice in Wonderland Leak
On February 12, 2016, the French Magazine, Envie D+ teased Alice in Wonderland figures. With a message saying, find Alice, the Mad Hatter, and Time in the game Infinity 3:0. It was later confirmed by the French Disney account, but then taken down. Then, on March 1st, during the first episode of Disney Infinity Next, John Vignocchi teased that Episode 2 would "feature an update on our favorite fish, and take a peek through the looking glass."
Finding Dory Leak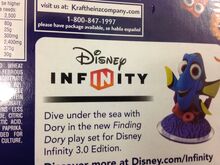 On March 10th, 2016 a user on twitter named Ty Dash discovered a leaked advertisement for the future Finding Dory playset (and subsequent Dory figure) on a Kraft Macaroni and Cheese box. This further assists the teases JV left at the end of the very first Disney Infinity Next Event.[63]
References
↑ 13.0 13.1 http://www.stitchkingdom.com/disney-confirmed-the-lone-ranger-playset-disney-infinity-62996/
↑ http://web.archive.org/web/20130517174756/http://www.entertainmentearth.com/prodinfo.asp?number=ATDS02372#.Vcp7E1vFut8
↑ http://www.stitchkingdom.com/disney-infinity-frozen-toys-variants-additional-characters-leaked-retailer-64054/
↑ http://www.videogamer.com/xbox360/disney_infinity/news/disney_infinity_mickey_mouse_spotted_in_retailer_listing.html
↑ http://infinityinquirer.com/2013/09/30/official-jack-skellington-figure-collectors-edition-coming-to-gamestop-105/
↑ http://infinityinquirer.com/2013/10/25/confirmed-race-to-space-pack-coming-to-toys-r-us-in-the-us-plus-three-new-exclusive-power-discs/
↑ http://vinylmationkingdom.com/2013/09/06/infinity-beyond-release-information-phineas-ferb-characters-plus-first-look-ferb/
↑ http://www.newsarama.com/21311-e3-2014-disney-infinity-2-0-introduces-spider-man-and-his-ultimate-friends-nova-venom-more.html
↑ http://infinityinquirer.com/2014/06/11/tinkerbell-donald-duck-stitch-and-much-more-leaked-by-walmart/
↑ http://www.idigitaltimes.com/disney-infinity-20-character-list-leaked-trailer-confirms-aladdin-and-jasmine-are-toy-box-bound
↑ http://infinityinquirer.com/2015/04/19/rumor-potential-first-look-at-disney-infinity-3-0-figures-initial-lineup/
↑ http://www.techtimes.com/articles/47503/20150420/disney-infinity-3-0-leaked-details-star-wars-mulan-olaf.htm
↑ http://www.ign.com/articles/2015/04/20/report-disney-infinity-30-will-include-classic-mickey-mouse
↑ http://www.christiantoday.com/article/disney.infinity.3.0.release.date.character.rumors.leak.shows.star.wars.anakin.skywalker.ahsoka.tano/53226.htm
↑ http://www.designntrend.com/articles/51656/20150520/disney-infinity-3-0-to-receive-8-play-sets-best-buy-listing-confirms-news.htm
↑ http://infinityinquirer.com/2016/12/here-is-what-disney-infinity-had-planned-for-disney-infinity-4-0-before-the-game-got-cancelled
↑ http://infinityinquirer.com/2015/05/27/report-four-star-wars-rebels-figures-leak-for-disney-infinity-3-0/
↑ http://infinityinquirer.com/2015/06/10/leaked-first-look-at-a-star-wars-rebel-figure-for-disney-infinity-3-0/
↑ http://infinityinquirer.com/2015/06/12/disney-infinity-officially-announces-four-figures-from-star-wars-rebels-coming-to-3-0/
↑ http://infinityinquirer.com/2015/05/29/exclusive-report-disney-infinity-3-0-launching-on-august-23rd/
↑ 52.0 52.1 http://www.disneyinfinityfans.com/viewtopic.php?f=9&t=12592#sthash.dh1B187F.UTW6HHeK.dpbs
↑ 53.0 53.1 http://webcache.googleusercontent.com/search?q=cache:gg12jdiID8wJ:https://www.simplygames.com/p/disney-infinity-30-the-good-dinosaur-character--spot-xbox-360-xbox-one-ps3-ps4-nintendo-wii-u+&cd=8&hl=en&ct=clnk&gl=ca
↑ https://www.youtube.com/watch?v=7t85QiuIn-0, in the comments
↑ http://www.game.co.uk/en/spot-disney-infinity-3-0-character-754313?pageSize=40&categoryIdentifier=892133&catGroupId=
↑ http://infinityinquirer.com/2015/08/22/first-look-the-four-discs-that-make-up-the-zootopia-power-disc-pack-for-disney-infinity-3-0/
↑ http://infinityinquirer.com/2015/10/13/ant-man-vision-and-black-panther-leak-for-disney-infinity-3-0/
↑ http://infinityinquirer.com/2016/01/19/confirmed-disney-infinitys-marvel-battlegrounds-includes-only-one-figure-retailing-for-29-99/