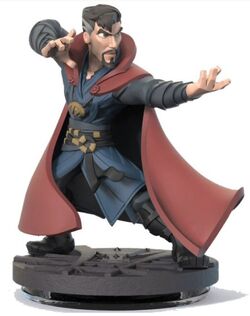 Dr. Strange is the protagonist in the movie of the same name. He was revealed by past employees post-cancellation. He was going to be playable in Disney Infinity: 3.0 Edition.
Not much is known about Dr. Strange besides his figure design and rough estimation of release (around the same time as his film). He also was going to be playable in the Marvel Battlegrounds playset.
Dr. Strange was going to arrive in Disney Infinity: 3.0 Edition via an update, but is now scrapped because production on Disney Infinity ended.
Gallery
Ad blocker interference detected!
Wikia is a free-to-use site that makes money from advertising. We have a modified experience for viewers using ad blockers

Wikia is not accessible if you've made further modifications. Remove the custom ad blocker rule(s) and the page will load as expected.