Disney Infinity Day is an event at GameStop stores, usually to celebrate a big release of a Disney Infinity product exclusive to GameStop at the time.
2013
The first Disney Infinity Day was held October 5th, 2013 to celebrate the beginning of Disney INFINITY Wave 2. GameStop exclusively sold Jack Skellington until October 28th, 2013, when it became available everywhere. The first 50 who ordered recieved a poster and some who paid $5 US extra recieved an exclusive display case. Disney Infinity Day also hosted the second Power Disc trading event. It was to celebrate the beginning of Disney INFINITY Wave 2.
2014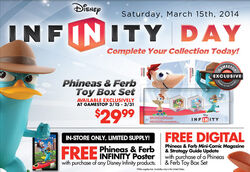 There were three Disney Infinity Days in 2014. The first, held on March 15th, was to celebrate the release of Phineas and Agent P.[1] The second and third were not really to celebrate any particular release, but were merely special sales. The second was held on August 9th[2], and the third on December 13th.[3]
2015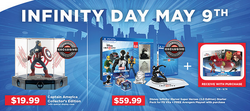 Many Disney Infinity Days were held in 2015. The first one was held February 21st for the relase of Rocket Raccoon's GameStop exclusive Collector's Edition [4] A Disney Infinity Weekend was held the weekend of March 28-29 to celebrate the release of Falcon, Loki Laufeyson and the final two power discs of 2.0 [5]. Another Disney Infinity Day was held on May 9th. The event was to celebrate the release of the collector's edition of Captain America and the starter pack of the PlayStation Vita version of Disney Infinity 2.0.[6]
Gallery
References
Ad blocker interference detected!
Wikia is a free-to-use site that makes money from advertising. We have a modified experience for viewers using ad blockers

Wikia is not accessible if you've made further modifications. Remove the custom ad blocker rule(s) and the page will load as expected.